Superior Building Technology For The Future of Commercial And Residential Development
The automated production of APEX Building Technology begins with basalt fiber rigid core insulation, framed in a steel matrix formed by computer-controlled fabrication equipment and bonded by structurally reinforced Magnesium Oxide sheathing. At the core of Apex Building Technology are building materials that are water-proof, fireproof, insect-proof, mold and fungal-proof, sound-proof, and structurally superior.
Weather Apex builds the complete project or supplies its individual components and materials to your job, you will experience the advantage of the ultimate in construction.
Apex Building Technology is designed without compromise. Manufacturing its own proprietary structural Magnesium Oxide sheathing, Rock Max, Apex clads the building system inside and out in an impenetrable barrier.
Apex's Basalt fiber core insulation provides a highly insulative, energy-efficient core and its steel-framed backbone combines to make a structurally superior building. All materials are Class-A fire rated, non-combustible and the system easily withstands 2 hours in the fire chamber.
All Materials are mold-proof, unaffected by water, Bug Proof, and, Contain no VOCs.
Every wall and floor are a sound stop creating the most comfortable living environment leaving sound where it starts. And, if this is not enough, the combination of steel framework, Rock Max MGO board, and basalt core give Apex Building technology structural superiority.
Highest energy rating – Highest sound attenuation – Highest quality
Apex Building Technology has designed and built its windows and glass doors to the highest quality in the industry. Triple pane tempered glass is standard with thermally broken aluminum profile frames that maximize light while providing the highest thermal transmittance rating. Only the highest quality latches and closures are used with stainless steel hinges, sliders and rolling bearings. Super low-E coating on not just 1 but 2 layers and double core gas filled insulation chambers make these windows and doors extremely efficient. Beautifully elegant European design of the highest quality materials and performance.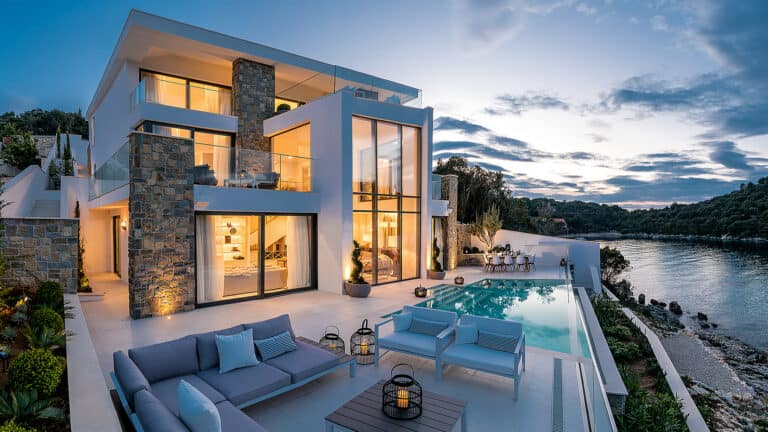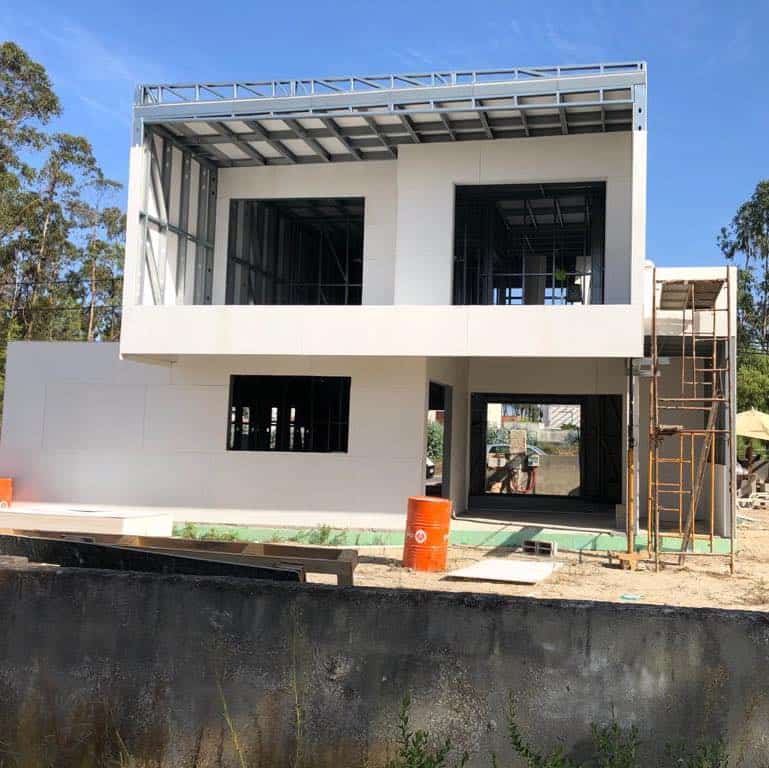 Mold proof – Water proof – Bug proof – Fire rated – Structural sheeting
Apex Building Technology introduces Rock Max Magnesium Oxide board. It is a direct replacement for structural OSB sheeting but with superior performance in fire, water, mold and bug resistance. It can be cut, screwed or nailed just like OSB and, Rock Max replaces drywall without the need for corner bead. No need for the complicated and time-consuming multi-step process of mudding and taping of joints. It is used in wet or dry applications and it eliminates multiple material substrates because it can be tiled over directly as structural floor sheathing and wall sheathing and can be applied directly to studs as exterior sheathing with direct to finish application such as stucco or conventional siding. Further, Rock Max is a very efficient sound blocker when sound transmission is of concern.
Rock Max Is Used In These Rated Applications:
Structural roof, floor and wall sheathing.
Interior applications wet and dry
Underlayment for floors and wall assemblies
Wall and ceiling board application
Soffits eves and all semi-exposed applications
Fire rated – Highly insulative -Water stable – Mold and Bug proof – Sound attenuating
Apex Building Technology brings to market its Basalt Fiber Core insulation. Bonded in a matrix the high temperature resistant basalt fibers form to create a multitude of fire rated core insulation products. Unaffected by water Fiber Core insulation is dimensionally stable in the presence of water. No mold will grow on basalt fiber and bugs do not eat it. Fiber Core insulation is highly sound attenuating and provides an excellent R-value in every insulation application.